DIA (Korean:다이아) is a nine member girl group under MBK Entertainment. The current line-up consist of Heehyun, Jenny, Eunice, Yebin, Chaeyeon, Eunjin, Eunchae, Somyi and Jooeun. The Official Fandom Name is AID, which is the group's name spelt backwards. 
They officially debuted as a 7 member group with the release of their first full length album Do It Amazing on September 15th, 2015, and held their debut stage on September 18th, 2015 on KBS2's Music Bank with the title track Somehow.
On December 17, 2015 MBK Entertainment issued an official statement, stating that members Cathy and Chaeyeon (Ki Hee Hyun) will temporarily depart from the group in order to participate in Mnet's girl group survival show Produce 101. It was unclear when the girls will be returning to DIA, however they were expected to resume group activities after ending the project with CJ E&M. Produce 101 also revealed that both Cathy and Chaeyeon auditioned for the show before their official debut with DIA. 
On March 6, 2016, MBK Entertainment revealed that DIA will be adding a new member Eunchae, and they will be preparing a comeback as a group of six.
On May 11, 2016 it was revealed that leader Seunghee has departed from the group while members Chaeyeon and Cathy will be returning to the group, Cathy will continue promoting as DIA main rapper while Chaeyeon will be an active member of DIA and I.O.I.
On April 6, 2017, DIA made a comeback showcase for their 2nd album YOLO as a 9 member group (current line-up), introducing their two newest members Jooeun and Somyi. The group made their comeback on April 20, 2017 with title track Will you go out with me on the 520th episode of M COUNTDOWN.
Current Members
Birth Name: Heo Soo Yeon 
 Stage Name: Eunice 
Birthplace: Busan, South Korea
Position: Main Vocalist, Lead Dancer
Height: 166cm
 Birthday: September 2, 1991
Status: Active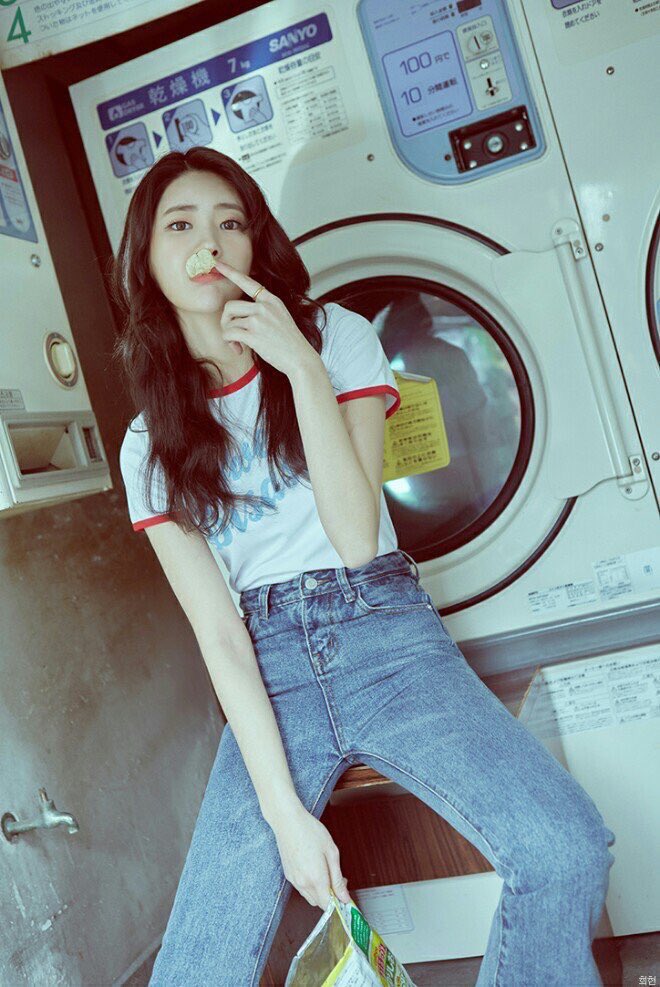 Birth Name: Ki Hee Hyun
 Stage Name: Cathy —> Heehyun
Birthplace: Namwon, South Korea
Position: Leader, Main Rapper, Lead Dancer
Height: 166cm
 Birthday: June 16, 1995
Status: Active
Birth Name: Lee So Yul
 Stage Name: Jenny
Birthplace: Incheon, South Korea
Position: Vocalist
Height: 165cm
 Birthday: September 14, 1996
Status: Active
Birth Name: Baek Ye Bin
 Stage Name: Yebin
Birthplace: Chuncheon, South Korea
Position: Lead Vocalist
Height: 164cm
 Birthday: July 13, 1997
Status: Active
Birth Name: Ahn Eun Jin
 Stage Name: Eunjin
Birthplace: Mokpo, South Korea
Position: Main Dancer, Lead Rapper, Vocalist
Height: 170cm
 Birthday: August 31, 1997
Status: Active
Birth Name: Jung Chae Yeon
 Stage Name: Chaeyeon
Birthplace: Kyunggi, South Korea
Position: Face of the group, Vocalist
Height: 165cm
 Birthday: December 1, 1997
Status: Active
Birth Name: Kwon Chae Won
 Stage Name: Eunchae
Birthplace: South Korea
Position: Lead Vocalist
Height: 159cm
Birthday: May 26, 1999
Education: Hanlim Multi Art School
Status: Active
Birth Name: Lee Joo Eun
Stage Name: Jooeun
Birthplace: South Korea
Position: Vocalist
Height: 168cm
Birthday: June 7, 1995
Status: Active
Birth Name: Ahn Som Yi
Stage Name: Somyi
Birthplace: Busan, South Korea
Position: Lead Vocalist, Maknae
Height: 167cm
Birthday: January 26, 2000
Status: Active
Former Member
Birth Name: Cho Seung Hee
 Stage Name: Seunghee
Position: Leader, Main Vocalist
Height: 166cm
Weight: 44kg
 Birthday: June 3, 1991

 Blood Type: A
Former Group: F-VE DOLLS
Education: Kookmin University
Place of Birth: Gwangju, South Korea
Status: Active