Just looking at these are enough to make you shiver with disgust and fear.
The price of being an idol means that not only do you have fans, but also anti-fans. Most people would think that famous idols are deeply treasured and loved by everyone, which, indeed, they are. However, they are also victims of anti-fans who send death threats their way. Anti-fans send hate on a regular basis. Here are some examples of hate.
   1. Hangeng
A fan gave a box of cake to the staff, who passed it along to Hangeng. Upon opening it, the staff were shocked to see that there was no cake, but, in fact, just several bags of blood, a knife, and a stabbed photo of Hangeng. It was also confirmed that the cake contained poison in the form of powder.
Baby VOX's Eunhye
In 2000, Eunhye was attacked by a male anti-fan who squirted a mixture of soy sauce, red pepper, and vinegar mixture directly into her eyes using a water gun. As a result, she was forced to wear an eyepatch on stage. The agency believed that the anti-fan tried to blind her but Eunhye insisted that the don't press charges as her injury was minor. Additionally, the singer was also egged and had food thrown at her to the point where she was scared of anti-fans and refused to walk in public with her head up.

Na HunA
While the veteran was singing on stage, Na HunA was cut on the face with a knife by an anti-fan. To this day, the scar still remains on his left cheek.
2PM
2PM was terrorized when they received a gift from an anti-fan. They had gotten a bouquet of flowers that symbolized death in Korea.

TVXQ's Yunho
Back in 2006, Yunho drank what he thought was orange juice that was given to him from a staff member. However, it turned out that the beverage contained super glue which caused him to vomit and cough out blood before fainting. Ever since the accident, Yunho is careful around other people or locations that looked similar to the place where the incident occurred.
Do Jiwon
Do Jiwon experienced a horrific incident in which she was kidnapped by an anti-fan and locked in the trunk of a vehicle.
Girl's Generation Taeyeon
During one of their concerts, a middle-aged man came on stage and dragged Taeyeon away. Sunny had followed the man and he was stopped by the security guards before he was able to get off stage.
Link for the video below:
Girl's Generation
In the "Dream Concert", the group suffered from an attack from their anti-fans, when they shut off their glowing lights and ceased their cheering during the concert for ten minutes, thus forcing them to perform in pitch-black darkness.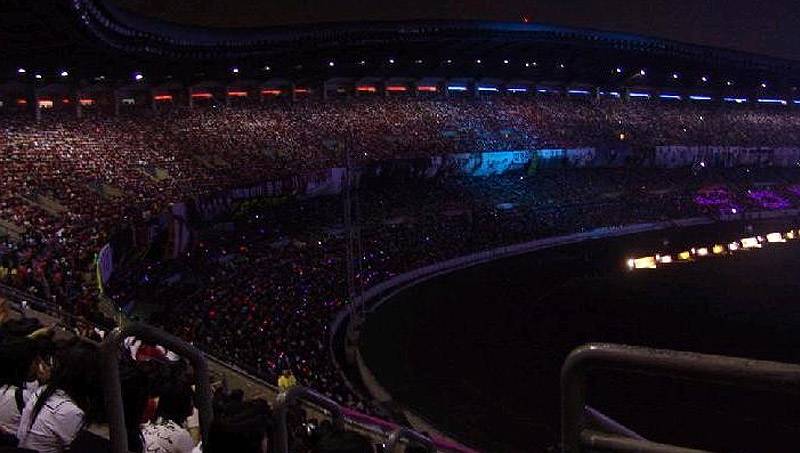 Super Junior
During the "Dream Concert", the same concert where the 'black ocean' incident occurred,  anti-fans publicly tore down all of the Super Junior stage banners.

Jay Park
Anti-fans had created a petition online titled 'Jaebum should commit suicide'. The petition had gotten over 3,000 signatures before it was taken down from the internet.